Scope of work:
Branding – Design System
Communication
Website
Collaterals
Background:
The venues are a collaboration between four partners who have all contributed to the rise of the city's cultural scene – legendary musician Ranjit Barot, musician and entrepreneur Ashu Phatak (of Blue Frog and True School of Music), restaurateur Nico Goghavala (of Nico Bombay and Farmer & Sons) and businessman and investor Nakul Toshniwal.
Brand Architecture:
Brand identity for four venues that are situated at the heart of The Royal Opera House. A venue that shares a common philosophy as a whole unit, but operates to serve various senses of an eventful time. We wanted to focus our design route around this same idea i.e. to build a visual identity that translates all aspects of what The Quarter offers. Developing a main identity out of the sum of the different spaces we arrive at a form which visually represents the entire space. The individual spaces can own their own adaptation of the main form. Subtle visual representation in the shapes can reinforce the same.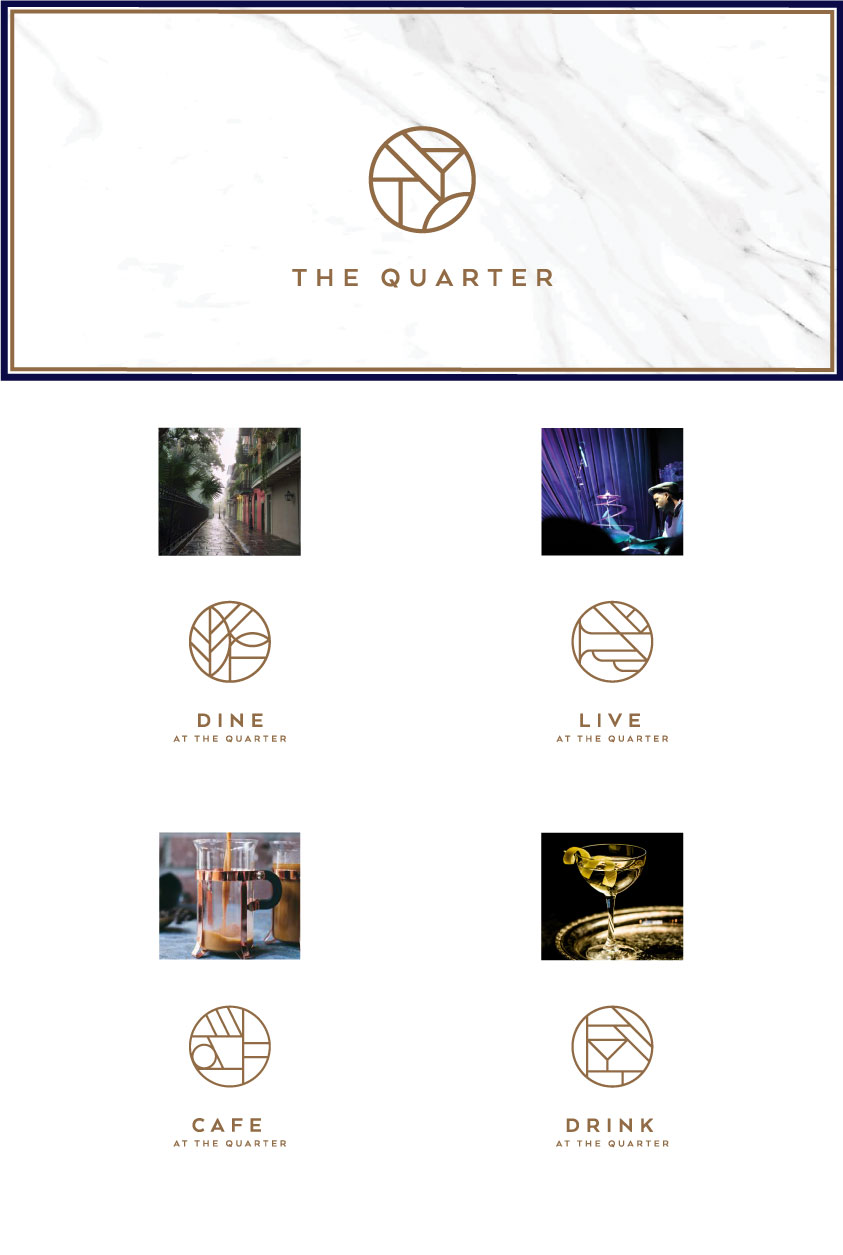 The Quarter comprises of four distinct venues:
Live at The Quarter (a live music venue) – Evocative of a 1950s art deco jazz bar, Live at The Quarter will host performances every night, each of them curated by music industry veterans and The Quarter Team.
Drink at The Quarter (a cocktail bar) – Soul food will meet jazz sounds at the al fresco Dine at the Quarter, which will serve a unique Louisiana Creole cuisine-inspired menu, the first of its kind in Mumbai.
Café at The Quarter (an all-day café) – The city's first mozzarella bar, here, the burrata and bocconcini will be paired with a world-class wine list and aperitif cocktails, making it ideal for both post-work drinks during the week and leisurely rounds on weekends.
Dine at The Quarter (an al-fresco restaurant) – Filled with natural light from the large bay windows, the bright and warm all-day Café at the Quarter, the menu will feature only fresh, local produce, and will comprise a carefully curated selection of single-estate coffees, artisanal sandwiches, seasonal salads and house-made pastas.
please visit The Quarter for more info.